ITIL 4 syllabus changes
The marketplace is changing, which means organizations need to move with the times to keep up with, or more importantly stay ahead of, the competition. ITIL 4 helps position businesses so that they're able to navigate the current and future challenges and opportunities of the modern digital world.
ITIL Foundation will remain the entry level certification and continue to explore the fundamental principles of ITIL. Whether candidates are aiming for the ITIL Professional or ITIL Strategic Leader qualification, they will need to complete ITIL Foundation as a prerequisite. Candidates can then become an ITIL Master by completing every module of the Professional and Strategic Leader streams.
ITIL Practitioner will no longer be available in ITIL 4 as a stand-alone module. Instead, it now forms a fundamental part of all modules in ITIL 4.
ITIL Managing Professional (ITIL MP) guides digital practitioners in the technology industry through successfully managing IT projects and teams.
ITIL Strategic Leader (ITIL SL) enhances candidates' understanding of the wider role IT plays in business strategy and emphasizes ITIL's role in delivering digitally enabled services.
The ITIL Managing Professional Transition Module has been designed with ITIL V3 certification holders in mind. It facilitates the transition from ITIL V3 to ITIL 4 and covers the core components of the ITIL Managing Professional Scheme. For candidates who have already earned 17 credits from ITIL V3, you do not need to pass the Managing Across the Lifecycle (MALC) exam to take this module.
ITIL 4 certification scheme
The ITIL 4 certification scheme comprises the following modules:
ITIL Foundation
ITIL Specialist modules (3):

Create, Deliver & Support
Drive Stakeholder Value
High Velocity IT

ITIL Strategist
ITIL Leader
ITIL Master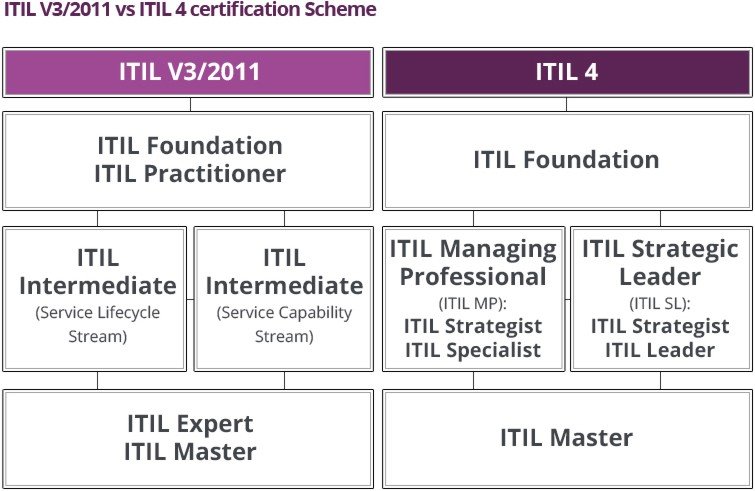 The difference between the ITIL Managing Professional (ITIL MP) and ITIL Strategic Leader (ITIL SL) certifications are that, while both certifications contain the ITIL Strategic module, ITIL SL also includes the ITIL Leader module while ITIL MP contains the ITIL Specialist module.
To become an ITIL Master, you will need to complete both the ITIL MP and ITIL SL designations, which includes the Foundation, Strategist, Specialist, and Leader modules.
That means ITIL 4 now requires you to complete all modules to become an ITIL Master, whereas previously candidates were able to advance to the Expert and Master levels by gaining all their credits from either the Service Lifecycle or Service Capability modules.
Recommendations for transitioning from ITIL V3 to ITIL 4
Your path with depend on your goals as well as the accreditation you current hold. As a guide we recommend the following:
If you have ITIL V3 Foundation, we recommended you complete ITIL 4 Foundation in order to transition to the new scheme
If you have a low number of credits, we recommend you either take ITIL 4 Foundation and a further module in a chosen area of interest, or gain 17 credits from ITIL V3
If you have at least 6 credits since V3 Foundation, we recommend you continue to collect credits until you reach 17, when you will become eligible to take the ITIL Managing Professional Transition Module