ITIL 4: The new syllabus
The ITIL® syllabus has been updated to reflect the way business is changing. One of the main elements of ITIL 4 is the idea of value co-creation - this being, value can only be achieved when the end customer is considered in the development of services/ features.
From this, the key components of the ITIL 4 framework are the ITIL service value system (SVS) and the four dimensions model.
The core components of the ITIL SVS are:
The ITIL service value chain
The ITIL practices
The ITIL guiding principles
Governance
Continuous improvement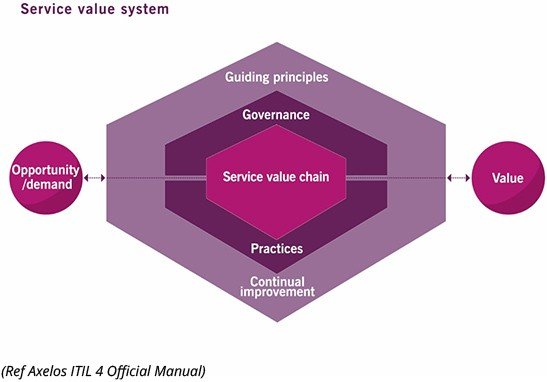 To ensure a holistic approach to service management, there are then four dimensions from which each component of the SVS should be considered:
Organisation and people
Information and technology
Partners and suppliers
Value streams and processes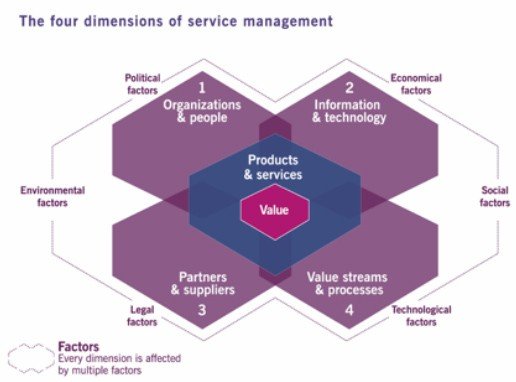 Then we have the ITIL practices, which are grouped into three categories as follows:
General management practices
Service management practices
Technical management practices
There are 34 practices* in total - 14 general management practices, 17 service management practices, and three technical management practices:
| General Management Practices | Service management practices | Technical management practices |
| --- | --- | --- |
| Architecture management | Availability management | Deployment management |
| Continual improvement | Business Analysis | Infrastructure and platform management |
| Information security management | Capacity and performance management | Software development and management |
| Knowledge management | Change control | |
| Measurement and reporting | Incident management | |
| Organizational change management | IT asset management | |
| Portfolio management | Monitoring and event management | |
| Project management | Problem management | |
| Relationship management | Release management | |
| Risk management | Service catalogue management | |
| Service financial management | Service configuration management | |
| Strategy management | Service continuity management | |
| Supplier management | Service design | |
| Workforce and talent management | Service desk | |
| | Service level management | |
| | Service request management | |
| | Service validation and testing | |
The Foundation level examines 15 of these practices - seven of which are examined in greater detail. The 15 examined practices at Foundation level are below. The seven in bold are the ones examined in more detail (9–15):
Information security management
Relationship management
Supplier management
IT asset management
Monitoring and event management
Release management
Service configuration management
Deployment management
Continual improvement
Change control
Incident management
Problem management
Service request management
Service desk
Service level management
The last element of the syllabus is ITIL's guiding principles. A guiding principle is a recommendation that guides an organisation, regardless of circumstance whether that's changing goals, strategies, types of work or management structure.
Focus on value
Start where you are
Progress iteratively with feedback
Collaborate and promote visibility
Think and work holistically
Keep it simple and practical
Optimise and automate